Introduction
Captive Thoughts
2 Corinthians 10: 4-5 KJV
For the weapons of our warfare are not carnal, but mighty through God to the pulling down of strong holds ;  Casting down imaginations, and every high thing that exalteth itself against the knowledge of God, and bringing into captivity every thought to the obedience of Christ;
I was first introduced to this verse as a relatively new Christian in 1992. In reading it and memorizing it I discovered a few very important points about life, and by that I mean not just the Christian life:
We are at war and the war is not physical but spiritual (The weapons of are warfare are not carnal)
The world and our imprint (events and words that have affected us that are untrue) have created strongholds in our thinking.
Our goal is to use God's word to cast down imaginations (false conclusions about ourselves and/or our circumstances) and as we read and meditate on scripture to change our thoughts (bringing every thought into captivity making it obedient to what Christ has to say about our life, and who we are).
Our thoughts are only the beginning. As we think we can slowly begin to say things to others about ourselves or about them communicating information that is untrue and use a jaded mind in doing so. So our thoughts lead to words.
As we speak we can begin to mull over in our minds courses of action that could be taken that in most instances are based upon false conclusions and could have devastating results. Our words lead to actions.
Most times these actions are taken with the wrong attitudes and have nothing more than selfish motives. The actions could be taken in anger with the motive to hurt someone or for revenge.
Please click the links below and listen to the following podcasts. They discuss our areas of responsibility, our thoughts, words, actions, attitudes, and motives. If you are using the hard copy version use the link that is shown.
 Podcasts on Responsibility
Responsible Thoughts https://drive.google.com/file/d/0B7YYeIComheYaElySnpFNDZoUGM/view?usp=sharing
Responsible Words https://drive.google.com/file/d/0B7YYeIComheYX21wQzFPaEtyclk/view?usp=sharing
Responsible Actions  https://drive.google.com/file/d/0B7YYeIComheYUncyek9BZzVvRU0/view?usp=sharing
Responsible Attitudes  https://drive.google.com/file/d/0B7YYeIComheYSlFNakRtYkV6Z1U/view?usp=sharing
Responsible Motives https://drive.google.com/file/d/0B7YYeIComheYTWx5dlZNczN0TDQ/view?usp=sharing
All of these podcasts were done during 2013 and were part of a blog talk radio broadcasts. They were done as tips for everyone to show the progression of thoughts to actions and why a person's attitude and their motives are so important.
This reflective journal is designed to give Christians and non-Christians an opportunity to see the power of God's word and to use it to help change the way they think. I have offered ten topics for consideration with a scripture verse as a starting point. The reader then works to discover more scripture that relates to the topic of their choice and journals about their progress and experience in trying to change the way that they think. Always remember it is our job to do our best, but we should trust God to make up the difference.
All scriptures verses were taken from The New English Version of the Bible unless otherwise noted.
To Order Your Journal Click On The Image Below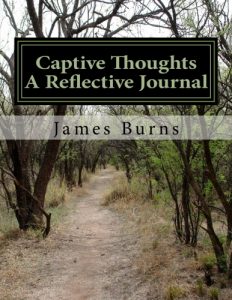 Save
Save
Save